Skateboarding At Tokyo 2021 Olympics – One Minute Sport
Skateboarding is a fun activity for some, a way to stay healthy for health-conscious people, and a mode of transportation for some other. There are no bounds and boundaries to this action-oriented sport. Skateboarding is on a continuous track of popularity and widely played all over the world. The good news for skateboarding fans is that it is going to be part of the summer Olympics 2021 Tokyo, Japan this year. So, get ready to participate and enjoy live actions on the ground.
In this guide, we will cover all the aspects relating to this sport and what Tokyo Olympics 2021 is going to offer for skateboarding. To learn more about it, continue reading;
A Timeline History Of Skateboarding
Skateboarding is a popular action sport that is played worldwide. It requires the riders to perform some tricks and action on a skateboard. It was announced late in 2016 that skateboarding will be part of the Olympics in 2021. The history of skateboarding goes back to the 1920s and 1930s when the surfers wanted to do some fun on flat waves. It is said that the first skateboard was manufactured in Los Angeles surf shop that gave an opportunity to the surfers to show their surfing skills on land.
In the 1970s an instant rise has been seen in the manufacturing of skateboards and many companies started to produce high-quality and innovative designs of boards to meet surfer's needs on land. In the beginning, skaters found empty pools and streets to cruise around but with the ever-growing popularity of the sport, a great revolution in skateboarding has been reported. This has given rise to the competition among competitors and modern-day technology has incorporated in making of the skateboards.
Hence, instead of simple wooden material boards, contemporary design maple wood boards with enhanced features and styles were presented into the market. Skateboarding sport has become sophisticated with every passing year and today we can see that it has taken off all the major action sports and making its debut in Tokyo 2021 Olympics this year.
Event Program Olympics 2021
There will be two main categories on the skateboarding program at Tokyo 2021 Olympics that is street and park skateboarding. In these events, both men and women can participate and show their skills. It will be a great occasion where you can participate and demonstrate your special skateboarding skills in front of the whole world.
Street Skateboarding For Men And Women
In street skateboarding, a complete street-like ambiance will be given which will include curbs, stairs, benches, walls, slopes, and handrails. Each of the participants will be given the chance to use each of the areas in order to show their skills and tricks on the range of different street-like premises. The judges will take all important factors into account while giving their remarks on an individual's performances such as height, actions, moves, level of difficulty, speed, execution of curves and degree of originality. The overall performance will be evaluated on these criteria and skateboarders will be given marks on that basis.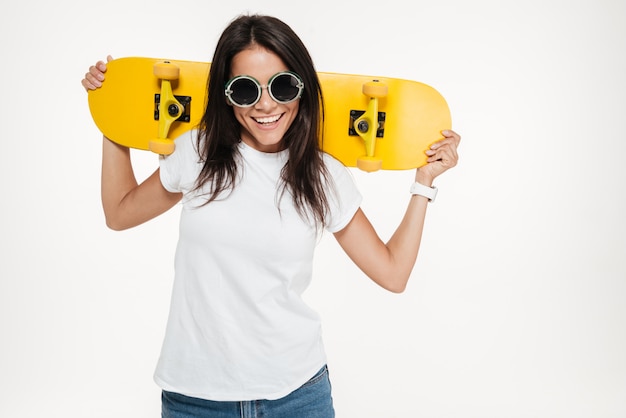 Skateboarders usually perform tricks like 'Ollie' in which rider and the board are in the air for a moment. This trick is done when the rider wants to get over the rails or curbs without using the hands. This trick seems difficult while skilled riders can easily perform this. In a competition like the Olympics, riders will try to show all their skills in order to get the highest marks.
Skateboard Stances
There are different ways a rider stand on a skateboard. Such as
Regular stance
Goofy stance
Fakie stance
Nollie stance
Switch stance
Moreover, flip tricks are very common in skateboarding. In this, the rider meticulously flips the skateboard while being in the air and then catches back the board before landing. Most of the skateboarders perform the flipping tricks in such a way that the viewer perceives it to have magnets in the feet. But, this is what their skateboarding skills demand. So, in this event, each rider is going to show what stance they usually do and how well they can ride the board.
In addition, earlier the decks of the skateboards were made of fiberglass, the material which was more prone to wear and tear. But since 1980s skateboard decks are manufactured with maple wood material, which is known for long-lasting quality and strength. Hard maple wood is considered to be strong, reliable and durable and can maintain the perfect balance while giving flexibility.
Park Skateboarding For Men And Women
In a park skateboarding competition in Tokyo 2021 Olympics, a range of curving routes will be designed for complicated curves. The performer will be doing tricks and actions in bowl-like dishes and domes routes. The attraction of the park competition will be seeing the riders achieving the highest curves at the fastest speed. This will also account for performing mid-air tricks that will be dangerous yet entertaining for the crowd at the Olympics.
An Outlook Of The Tokyo 2021 Olympics Games
Tokyo 2021 Olympics will provide a unique and entertaining experience for all sports lovers in a dynamic urban location. In skateboarding, the skater will give the chance to freely choose any part of the categories defined above and whatever tricks he/she wants to perform. For instance, if the same tricks are performed by the various riders, the judgment will be given on the performance and level of speed the rider has attained. Apart from speed, the marks will be given based on tricks which are more difficult to perform.
In addition, the Tokyo 2021 Olympics judges for skateboarding will also take various other measures into account while evaluating the performance of the riders such as consistency, flow, timing and the extent to which the rider can remain in the air while taking moves and shifting sides.
It is also said that the music will also contribute to making the overall ambiance more youthful and vibrant. It will give more opportunity to deliver a unique Tokyo Olympics event while engaging with the audience in a positive manner.